Located in Kowloon Bay, the Zero Carbon Building (ZCB) established by the Construction Industry Council (CIC) serves to showcase and promote smart city technologies and low carbon living. Recently, ZCB welcomed its new member – the Modular Integrated Construction Display Center (MiC Display Center).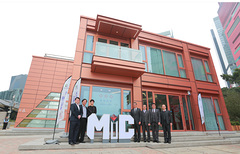 During the budget consultation sessions I attended recently, one of the discussion topics which participants concerned most was the property market. Apart from the supplies of land and flats, discussions also focused on whether the Government would relax the so-called "harsh measures" for property market.
2018 is coming to an end. This year, the global market grew along with a positive trend, though accompanied with some unforeseen fluctuations. Early this year, the global economy experienced widespread and solid growth. Amid this trend, Hong Kong economy recorded a robust growth of 4.1% in the first half of the year.