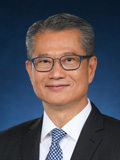 Welcome to my website.
Hong Kong is an international financial, transportation and trade centre, as well as an international offshore Renminbi business hub and asset management centre.  We are highly competitive globally in the areas of financing services, business and commerce, logistics and professional services.  Our fair and open business environment, highly efficient market and the rule of law, has been the driving force of a vibrant and energetic business sector in Hong Kong.  We have been attracting a large number of enterprises and investors from overseas and the Mainland to come to Hong Kong for business.
Hong Kong is an open and small economy facing fierce competition from around the world.  We must make full use of the unique advantages of "one country, two systems" as well as our deep pool of talents with global vision, in order to seize the enormous opportunities brought about by the development of our nation and to achieve more economic success for Hong Kong.
As Financial Secretary, I shall strive to maintain Hong Kong's favourable business environment, to consolidate the advantages of our pillar industries and at the same time to diversify Hong Kong's economy through opening up new markets and nurturing new industries, so that people from different segments of society will be able to share the benefits of economic advancement, and that there will be more choices of quality jobs for the young people.
I shall endeavour to achieve a fiscal balance, to dedicate public resources flexibly for launching various Government projects, and to provide public services that suit the needs of the community and promote social and economic development of Hong Kong.   On land supply, I shall be leading the relevant departments to work together to provide Hong Kong with sufficient land resources in satisfying our needs for economic development, housing as well as for improving people's livelihood.
You are welcome to drop me a line through email or other channel to let us know your views and thoughts on my work. Thank you!
CHAN Mo-po, Paul
Financial Secretary