Diversified cultivation
Recently, I invited a group of primary students to a small party in my official residence and we all had a leisure and pleasant weekend. They are awardees of the Star Bright Scholarship Awards presented by the non-governmental Gifted Education Foundation. Some of them have excellent academic talent, while others demonstrate a broad range of outstanding potentials in music, arts, sports, dance, martial arts, etc. We enjoyed a taekwondo performance by one of the awardees on that day. Although she is only a primary student, her performance was full of confidence and power. We were impressed with her passion and could image the strenuous training she had undergone.
I believe every child has their unique strength and talent which might be easily overlooked if we only focus on their academic achievement. We commit to provide more opportunities for our young people to discover their strength and allow our next generation to develop according to their interests, to showcase their talents and to work out their style and pathway. I believe that having their talent and effort being recognised and appreciated is the biggest motivation for our younger generation to explore and realise their dream.
The development of innovation and technology (I&T) has brought both challenges and opportunities to traditional business model and changed the demand on talent and skill sets. We encourage our students to pursue their interests and we believe that their passion and enthusiasm will help develop their problem solving skills and creative ability during the process. These elements are essential to cope with the future society and economic development.
In recent years, the Government has injected a vast amount of resources to launch various funding schemes and scholarships with an aim to revealing young people's aspirations and strength, to broadening their horizons and facilitating their diversified development.
As an example, Partnership Fund for the Disadvantaged set up a dedicated fund four years ago to implement more after-school learning and support programmes for primary and secondary students from grassroots families, and to support their participation in cultural, arts, sports and I&T trainings and exchanges, leadership and skill trainings, etc. It helps enrich their life experience, develop their potential and encourage them to pursue their dreams. After five rounds of applications, around $180 million has been granted to roll out about 240 after-school learning and support programmes. Together with the matching fund from business partners, the total grants reach $360 million, benefiting over 100 000 primary and secondary students.
In addition, I enhanced the District Support Scheme for Children and Youth Development in 2018-19 to provide enhanced cash assistance to children and youth in need. The ceiling of cash assistance was increased from $1,500 to $2,000 and the service quota was also increased from 6 000 to 10 000. Beneficiaries are subsidised to learn social skills, to join leadership training schemes and overseas exchanges, etc.
I also announced last year the injection of another $800 million into HKSAR Government Scholarship Fund to encourage students to pursue excellence in academic and non-academic areas. Two new scholarships and awards, namely the Talent Development Scholarship and Reaching Out Award, have been established to benefit a wider range of students not only with outstanding academic performance, but also achievements and talents in other non-academic fields to participate in learning, internship, service programmes or competitions conducted outside Hong Kong. There will be around 5 800Scholarships and awards for these two scholarships in 2019/20 academic year.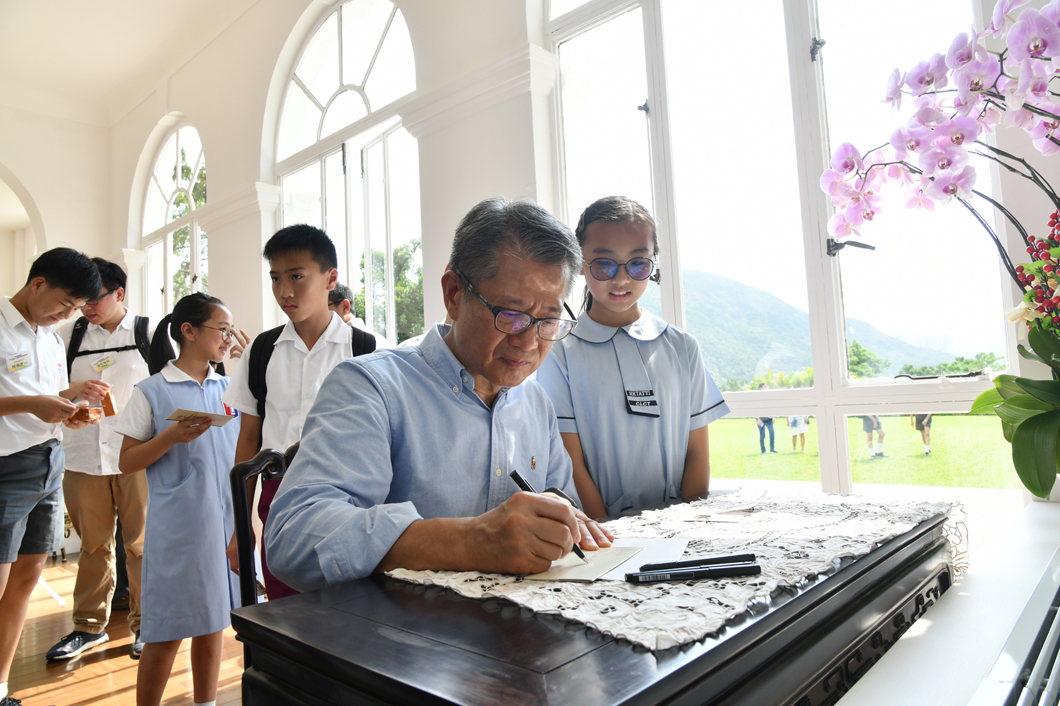 To fulfil the interests and needs of gifted students, I injected $800 million into the Gifted Education Fund last year. The fund supports different stakeholders to provide diversified outside school learning programmes such as aviation and robotic, which are not usually covered by traditional schools, to allow students with potential to develop their strength early.
Parents have different ways to raise their children but there is always one thing in common. They want their children to develop according to their interest, to have the opportunity to fulfil themselves and to serve the society. Let us work together to provide more opportunities for our young people to shine and strive for excellence.
May 12, 2019