Stop the violence and move forward
The Hong Kong economy is clouded by various headwinds. The latest statistics released by the Census and Statistics Department showed that the Gross Domestic Product (GDP) fell by 2.9% in the third quarter from a year earlier, marking the first year-on-year decline since the 2009 global financial tsunami. On a quarter-to-quarter comparison, two consecutive quarters of decline were recorded, with the fall in GDP widening significantly to 3.2% in the third quarter from 0.5% in the second quarter, signaling that the Hong Kong economy has entered into a technical recession.
The latest figures reflected that the severe impacts of the local social incidents in recent months took a heavy toll on the already slackening economy. The situation showed an abrupt deterioration in the third quarter. Apart from government consumption expenditure, all major components of both external and internal demands registered declines.
Series of large-scale demonstrations and weekly frequent violent destructions have dealt an extremely heavy blow to local retail, catering and other consumption-related industries. Private consumption expenditure fell significantly by 3.5% in the third quarter, its first year-on-year decline over a decade. It is worth noting that private consumption is a rather important part of our economy, equivalent to more than two-thirds of GDP, and also has a bearing on labour market performance. For example, in 2003, although GDP only recorded negative year-on-year growth for a single quarter amid the drag from the outbreak of SARS (down by 0.6% in the second quarter of 2003 from a year earlier), as private consumption expenditure fell for six straight quarters, the unemployment rate surged to a record high of 8.5% (second quarter of 2003). A similar situation also occurred in 1998-99 when private consumption expenditure contracted for five consecutive quarters, which led to the unemployment rate soaring from 3% to over 6% in just a year's time.
With reference to past experience, we must closely monitor the performance of private consumption expenditure in the next few quarters, after the 3.5% decline in the previous quarter. If the considerable drop continues, it is expected to bring greater pressure to the labor market.
In particular, Hong Kong is currently facing mounting headwinds on both the internal and external fronts. The global economic momentum slackened progressively amid the adverse impacts of China-US trade tensions. Hong Kong's total exports of goods fell by 7% in real terms in the third quarter from a year earlier. With the recent social incidents taking a severe toll on inbound tourism, Hong Kong's exports of services fell sharply by 13.7%. Reflecting subdued investment sentiment, gross domestic fixed capital formation fell visibly by 16.3% year-on-year in the third quarter, 5.5 percentage points larger than the decline in the previous quarter. Various establishment surveys in recent months all showed that local business sentiment has remained very pessimistic.
With the significant weakening of the economy in the third quarter offsetting the mild growth in the first half of the year, the Hong Kong's economy contracted by 0.7% year-on-year in the first three quarters. Judging from the current situation, the economic growth forecast of 0-1% for the year as a whole will inevitably be lowered again. This will be the second adjustment during the year, and also means that the likelihood of a negative growth for the year as a whole is very high.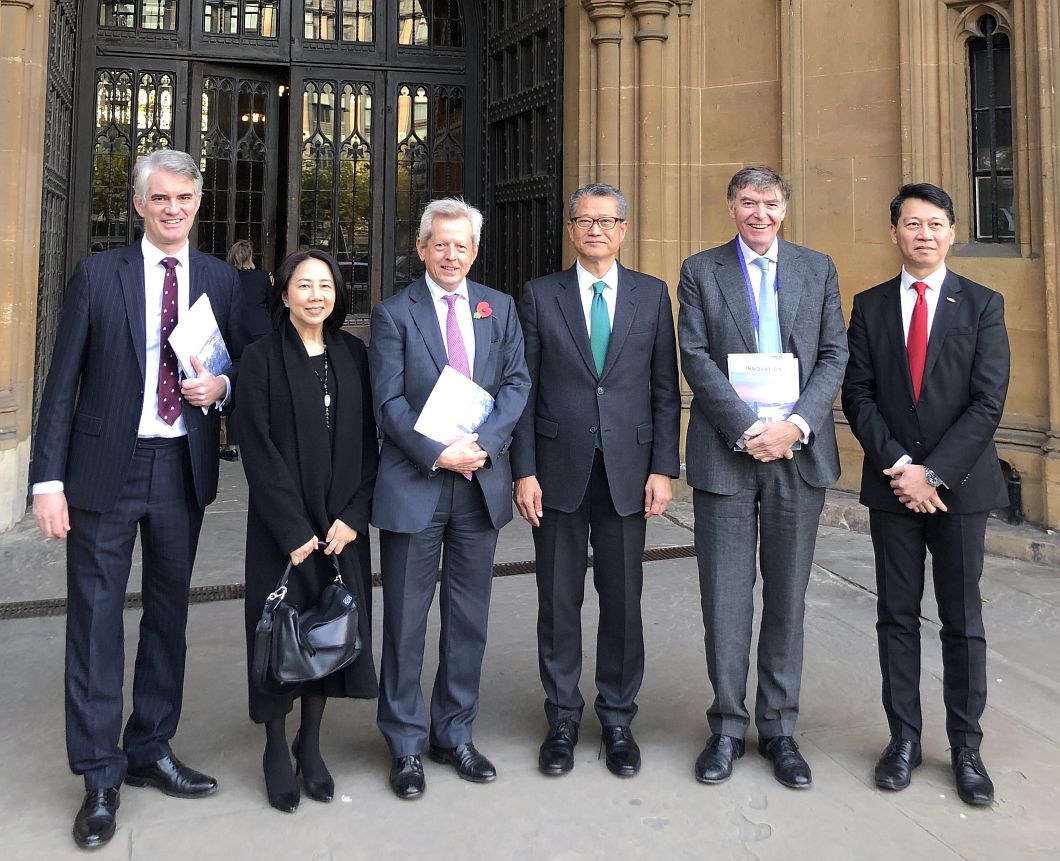 The continuous vandalism and the destruction of shops and public facilities have not only affected Hong Kong's economy, but also affected Hong Kong's international image as a safe business and financial centre. Last week I visited London to meet with local government officials, financial regulators, businesses and people from innovative and technological sector to explore further collaboration between the two places. Many people I met were concerned about the social unrest in Hong Kong. Some canceled their visit plans to Hong Kong and some even suspended their investment plans. They were worried about how the violent turmoil in Hong Kong would calm down. It is obvious that repeated violent incidents have significantly affected investment sentiment. This situation was similar when I visited New York and Washington DC last month. Yet one thing in common was that they were still interested in the investment opportunities in Hong Kong and the Guangdong-Hong Kong-Macao Greater Bay Area (the Greater Bay Area), and believed that Hong Kong is still highly competitive as long as it can restore social order. To them, Hong Kong is still a bridge between the Mainland and the world's financial markets and a springboard for foreigners to enter into the Great Bay Area.
During my visit to London, we held a number of round-table discussions with local government departments and different business and financial organisations on various subjects including the Belt and Road Initiative, the Great Bay Area, fintech, green finance and wealth and assets management. We conducted in-depth exchanges and explored how to further our cooperation.
Many participants believed that in the light of the upcoming Brexit, it is even more necessary for UK to strengthen ties with other markets and China is also an important market to them. I also met with the Chancellor of the Exchequer of the UK, Mr Sajid Javid during my visit to discuss financial and economic issues of mutual concern. Both Hong Kong and London are international financial centers, which are closely linked to the Mainland and European markets respectively. There is vast potential for enhanced cooperation between the sides. In addition, the political and business sectors in the UK showed strong interests in exploring the signing of a free trade agreement between the UK and Hong Kong after Brexit.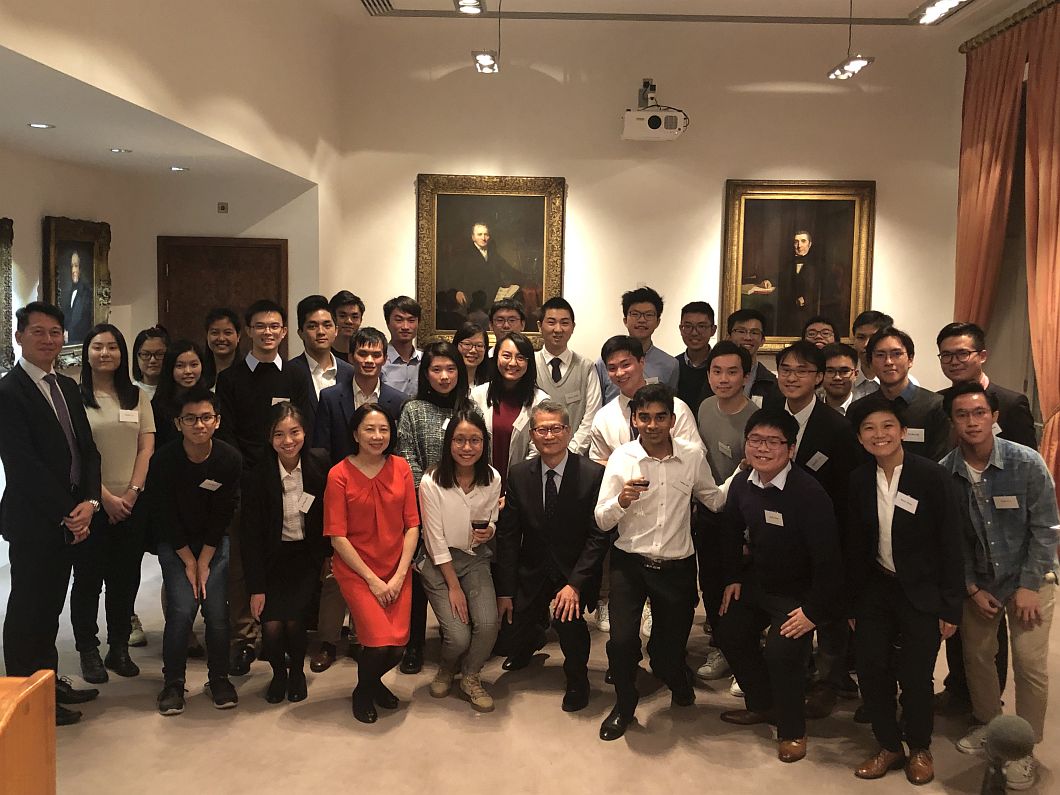 Fintech was also one of the focuses of this trip. I led a Hong Kong delegation to visit London, in which 20 members came from fintech startups in the Cyberport. Apart from participating in roundtable discussions with local industry and promoting Hong Kong's fintech development, they also attended various visits and exchanges to deepen their interaction with and understanding of local start-ups and the investment community. Indeed, since the signing of the UK-Hong Kong FinTech Bridge two years ago, we has conducted many exchanges and cooperation at the government, regulator, and business levels to explore investment and business opportunities.
Hong Kong has made good progress in fintech in the past two years, including virtual banking, virtual insurers, " Faster Payment System ", the standardisation of the Quick Response Code (QR Code) for retail payments, the Open Application Programming Interface (API) Framework for the Hong Kong Banking Sector and "eTrade Connect", etc. At present, there are some 600 fintech companies and start-ups in Hong Kong, of which nearly 40% are from overseas. In the past five years, they have raised more than US$1.1 billion, which is about 60% more than Singapore in the same period. This week (4-8 November 2019), "Hong Kong FinTech Week 2019" will be held in Hong Kong. About 10 000 fintech companies, start-ups, regulators and professionals from all over the world will once again gather in Hong Kong to explore cooperation opportunities.
3 November, 2019