A positive mind in resolving problems
Last week, I announced my third Budget.  For the 2018/19 fiscal year, the financial surplus is estimated to be $58.7 billion, among which 73 percent will be spent on one-off relief measures, as compared with around 40 percent in last year's Budget. Measures proposed in this year's Budget include reducing salaries tax and profits tax, waiving rates for properties, providing an extra one-month amount of allowance to recipients of Comprehensive Social Security Assistance and other social securities, providing to each student in need a one-off grant of $2,500, paying the examination fees for school candidates sitting for the 2020 Hong Kong Diploma of Secondary Education Examination, and providing an additional $1,000 worth of Elderly Health Care Voucher to eligible elderly on a one-off basis.
Apart from these one-off measures worth of $40 billion plus, the rest of the surplus, together with the revenue of the coming year and some of our fiscal reserves, will be used for developing a livable city, improving our healthcare services and livelihoods, as well as promoting economic development for Hong Kong. While some of the initiatives were proposed by the related bureaux during the internal resources allocation process, I also raised my suggestions to them for their consideration.  Some of my ideas were inspired from meetings with political parties, organisations and stakeholders during Budget consultation, while some were arising from observation and discussion during my visits to districts, schools, various organisations and facilities. Moreover, people I met in daily life also expressed their expectations for the Government in improving their livelihoods, which I held them dear to my heart and followed up through.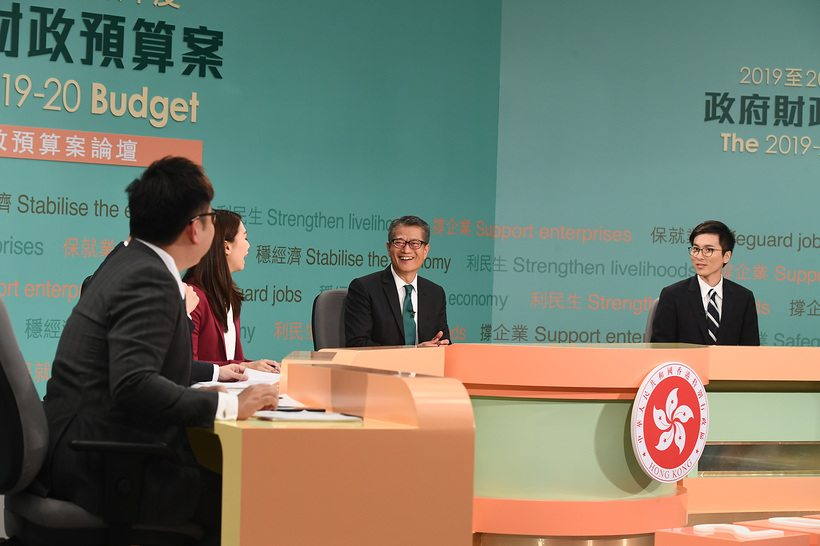 Public healthcare service is one example. A patient I met shared with me her experience in a cancer treating centre of a public hospital, including the deterioration of medical equipment. There were also medical staffs explaining to me how their morale had been deeply affected by the unsatisfactory working environment and hospital management, the overload of administrative works, as well as the slow progress in introducing new medical equipment. As such, I took my initiative to exchange views with different players in the public healthcare sector, so as to have a clearer and more comprehensive picture of the actual situation. These first-hand sharing allowed me to understand the seriousness and urgency of the problems, and pushing me to come up with a number of preliminary proposals for improving the public healthcare services. Followed by deliberations with relevant bureaux, the agreed initiatives were put forward in this Budget.
To be honest, we have to admit that the four initiatives proposed in this Budget could not settle all the deep-rooted problems in our public healthcare services. For instance, increasing the special allowance for over-time working, which has been frozen for some time, could only provide limited effect in boosting morale. Nonetheless, this only marks the beginning.  Through these initiatives, I wish to express my gratitude and appreciation to all the hardworking and dedicated healthcare staffs who have been safeguarding our health. In addition, by improving medical equipment and working environment, the public can also enjoy healthcare services of higher quality and efficiency. Certainly, as the frontline public healthcare provider, there is a pressing need for the Hospital Authority to improve its administrative efficiency, listen to the views of its employees and initiate changes to address the problems.
With this example, I would like to illustrate the point that the problems we are facing now may have been formed and accumulated for a long time, making it much harder to be resolved quickly.  And some problems cannot be resolved merely by money. What we need to do is to identify the crux of the problems and issues requiring attention in the short, medium and long run, formulate solutions, and to implement the measures with determination. During the process, we have to set off from the bottom of our heart and listen with care, so as to achieve mutual understanding among all to face and address the problems.   
Some critiques have misunderstood that the Budget could only passively adopt the suggestions from policy bureaux, thus limiting the scope of the Budget. In fact, I have proactively studied with related bureaux on many proposals in various policy areas, such as public healthcare services as mentioned, innovation and technology, etc, and put forward in this Budget measures which are feasible and useful. For other proposals which may be constrained by other factors for the time being, we will continue to study outside the Budget context.
There are widespread discussions on the different Budget initiatives.  I will continue to explain its content to the public. I would also like to take this opportunity to express my gratitude to all the Government colleagues who support me during the preparation of the Budget, in particular colleagues from the Treasury Branch and the Financial Secretary's Office. Their hard work, dedication and professionalism are highly appreciated.   
March 3, 2019